MONACO BOYS CHOIR/THE LITTLE SINGERS OF MONACO - U.S.A. 2023 TOUR 
A perennial favorite on the European choral concert circuit, the Monaco Boys Choir (Les Petits Chanteurs de Monaco), under the High Patronage of HSH Prince Albert II, will return to the United States in 2023 -- after an enforced absence due to COVID-19 restrictions -- for a series of free concerts in New York City, Philadelphia, Washington D.C., Savannah, Orlando, Port St. Lucie, Palm Beach and Miami.
Founded in 1974 by H.S.H. Prince Rainier III to contribute to the Principality's cultural and artistic heritage, the Choir is a part of the Monaco Cathedral Choir and is composed of talented boys, aged 8 to 18.
The ensemble, especially popular for their unusual repertoire of works written for children, have performed concerts in more than 40 nations around the world.
Under the High Patronage of H.S.H. the Prince of Monaco, the Monaco Boys Choir, through the generous support of the Monégasque government, is able to donate its talents to concerts organized on behalf of humanitarian associations.
On previous visits to the east coast, the Choir appeared at many venues in NYC (Cathedral of St. John the Divine, Yankee Stadium, Bryant Park, United Nations headquarters, St. Patrick's Cathedral, St. Bartholomew's Episcopal Church), in Washington D.C. (the Millenium Stage at The Kennedy Center, the Smithsonian National Museum of American History, the Metropolitan Club, Basilica of the National Shrine, St. Matthew's Cathedral, Children's National Hospital, and the French Embassy), in Palm Beach (Raymond Kravis Center), in Miami (Marlins Stadium, Holy Trinity Episcopal Cathedral, Florida International University). They have also appeared live on NBC's Today Show, FOX Business, and Telemundo.
The musical repertoire of the tour includes musical works by Franck, Saint-Saëns, Gounod, Fauré, Britten, Rachmaninoff, DeFord as well as French and Monégasque folk songs.
The musical director and piano accompanist is Mr. Pierre Debat, Director of the Monaco Boys Choir, and Chapel Master of the Prince's Palace and the Cathedral of Monaco.
∼ In 2024, the Choir celebrates their 50th anniversary. The photo (right) shows Prince Rainier and Princess Grace on the occasion of their establishment in 1974. This year Monaco  also marks the centenary of the birth of the Choir's founder, Prince Rainier III, with a series of festivities and celebrations.
For more information, please visit here.∼
Some Highlights from the Monaco Boys Choir's 2023 USA Summer Tour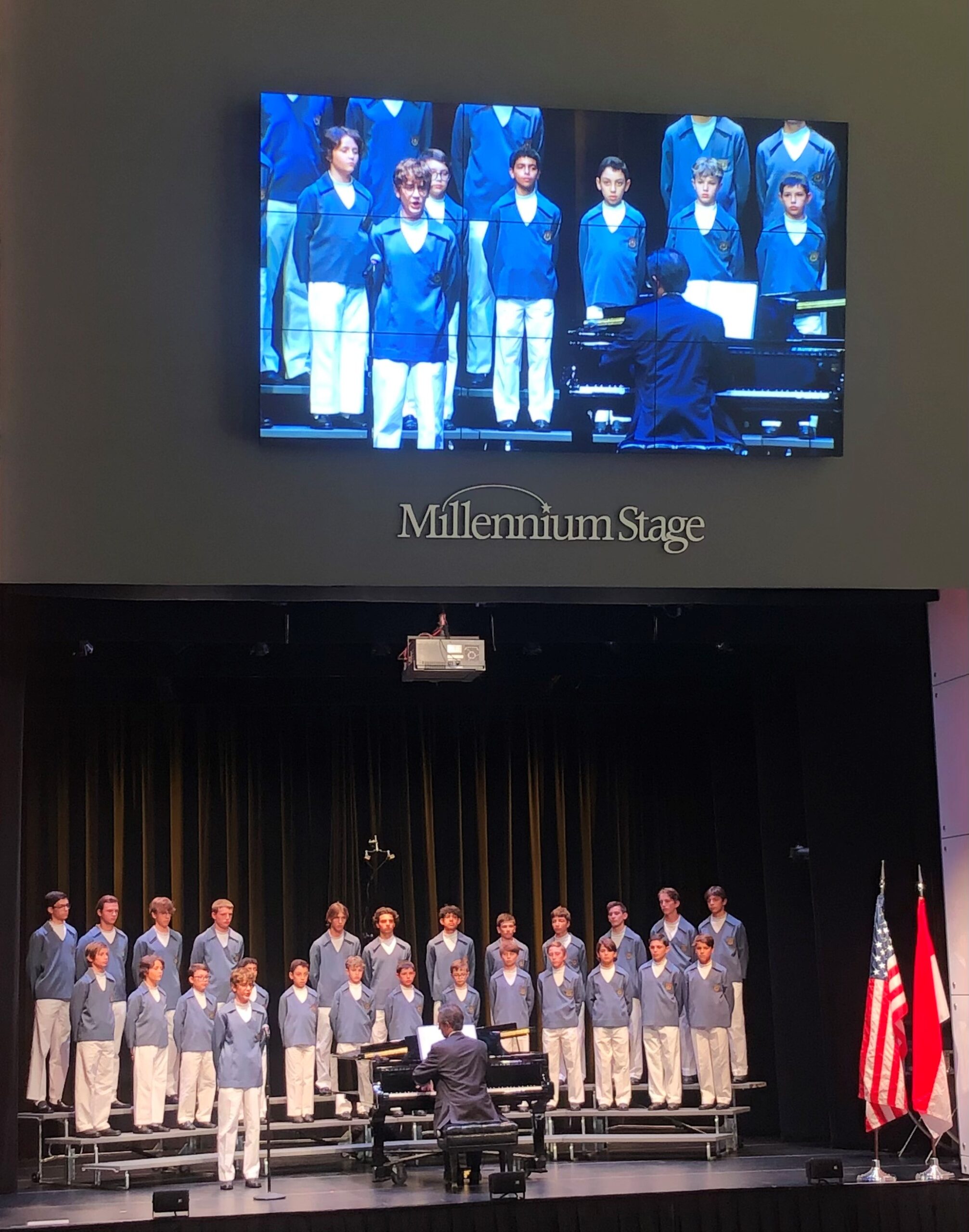 The Choir performed during a Mass service at St. Katharine Drexel Catholic Church in Weston, Florida, on Friday, July 21,
and the congregation was enchanted!
Monaco Boys Choir perform in NYC in 2010