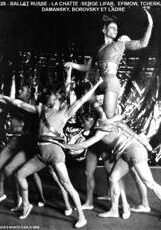 HISTORY
It was in Monte-Carlo in 1911 that Serge Diaghilev's Ballets Russes gave its first performances, presenting the extravagant works of company choreographer, Mikhail Fokine. The same year, the company took up residence in the Principality and began a series of regular seasons at the Monte-Carlo Theatre. Many fabulous creations that marked the history of dance and theatre were developed and produced in Monaco, including the legendary Spectre de la Rose which premiered in Monaco in April 1911 with Tamara Karsavina and Vaslav Nijinski. Also in 1911, Fokine created Narcisse, and in 1913, Nijinski presented his first ballet, L'Après-Midi d'un Faune. 
This golden period came to an end with the start of World War I in 1914. Diaghilev, exiled in the United States, worked diligently to keep his company together so that the Ballets Russes were able to return to Monaco in 1920. The choreography of Leonide Massine, Bronislava Nijinska and a young George Balanchine was enhanced by the decors and costumes of Larionov, Picasso, Braque, Utrillo, Matisse and Bauchant, while composers included George Auric, Francis Poulenc, Darius Milhaud, Erik Satie and Henri Sauguet. One prestigious creation followed another: Nijinska's Les Biches and Le Train Bleu, Balanchine's Le Chant du Rossignol, Barabau, Le Triomphe de Neptune, La Chatte (which revealed the young Serge Lifar), La Pastorale, Le Bal and Jack in the Box. In 1926, Diaghilev renames the troupe Ballets Russes de Monte-Carlo.
After Diaghilev's death in 1929, René Blum and the Colonel de Basil continue his work through the Ballets de Monte-Carlo, with Nijinska, Massine and Boris Romanoff as the artistic pillars. George Balanchine served as choreographer and created Le Bourgeois Gentilhomme, Boléro, Les Présages. Acclaimed artists such as André Derain, Raoul Dufy, Joan Miro, Christian Bérard and renowned composers-musicians including Serge Prokofiev and Maurice Ravel also worked with the company.
In 1936, the company's first choreographer, Mikhail Fokine, returned to work alongside Boris Romanoff, Nicolas Zwereff and artistic director Leonide Massine. Unfortunately, in 1939, World War II put an end to the company which eventually did not return to Europe.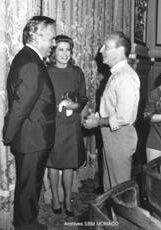 In 1942, Marcel Sablon, director of the Theatres de Monte-Carlo, founded The Nouveau Ballet de Monte-Carlo, with Serge Lifar as artistic director. In 1947, Lifar was appointed to the Paris Opera, and the Marquis de Cuevas took over and renamed the company Grand Ballets de Monte-Carlo, Compagnie du Marquis de Cuevas. In 1950, it became the Ballets du Marquis de Cuevas and was no longer associated with the Principality.
It was at the initiative of H.R.H. The Princess of Hanover that a ballet company finally returned to Monaco in 1985 thus fulfilling a wish her mother, Her Serene Highness Princess Grace of Monaco, often expressed. On December 21st, 1985, George Bizet's Te Deum, launched a new chapter in the history of dance in Monaco. Directed by former Paris Opera star, Ghislaine Thesmar ,and Pierre Lacotte, the company rehearses in the Diaghilev studio, performing on the stage of the Salle Garnier in the Monte-Carlo Opera House and immediately starts touring. The repertoire includes works from the Ballets Russes, contemporary pieces from guest choreographers such as Kevin Haigen, John Clifford, Jean-Christophe Maillot, Dieter Amman, Uwe Scholz. In 1989, Jean Yves Esquerre becomes artistic director.
In 1992, Jean-Christophe Maillot joined the company as artistic consultant and is officially appointed director-choreographer by H.R.H. The Princess of Hanover in 1993. Four years later, thanks to his vision Les Ballets de Monte-Carlo leaves its historical home, which had by then become too small, and moves into its own dance center, L'ATELIER.
Jean-Christophe Maillot opens new horizons for the company. He constitutes an original repertory around his own creations mixing the great masters of American abstraction like Lucinda Childs, Karole Armitage, William Forsythe with European choreographers such as Jacopo Godani, Nacho Duato, Larbi Cherkaoui among others.
Maillot's personal passions are spotlighted in such creations as Dov'è la luna, Recto-Verso, Vers un Pays Sage, Entrelacs, Opus 40, Men's Dance, D'une Rive à l'Autre, Noces, Miniatures, as well as in the great classics with timeless themes such as Romeo and Juliet,The Nutcracker, Cinderella, La Belle (The Beauty), Le Songe and Faust.

Many artists of various disciplines have collaborated in these works: visual artists like George Condo, Ernest Pignon Ernest, Philippe Favier, Dominique Drillot, composers such as Yan Maresz, Andrea Cera, Ivan Fedele, Ramon Lazkano, Martin Matalon, Gérard Pesson, Marc Ducret, and costume designers like Jérôme Kaplan or Philippe Guillotel. Resolutely turned towards the future and new technologies, the choreographer also calls on photographers and video artists, among whom are Ange Leccia, and Gilles Delmas.
The history of dance in Monaco continues to evolve. Under the Presidency of Her Royal Highness The Princess of Hanover, Les Ballets de Monte-Carlo is now also home to the Monaco Dance Forum and the Princess Grace Academy.
Photo Credits :
Serge Lifar in La Chatte (1928) (c)Archives Monte-Carlo SBM
TT.SS.HH. Prince Rainier and Princess Grace with George Balanchine (1969) (c)Archives Monte-Carlo SBM