"...to have complete satisfaction from flowers you must have time to spend with them.
I talk to them and they talk to me...
Quote from My Book of Flowers by Princess Grace of Monaco(1980)
Though Her interests were many, Her true passions were few, and they did include a deep love and appreciation of flowers. She established the Garden Club of Monaco in 1968 to "...brighten the lives of people around us." Of the club, She said, "We decorated chapels, churches, museums, old people's homes at Christmas time and we participated in charity bazaars. Even the railroad station in Monte-Carlo and the airport at Nice receive a bouquet once a year. We also give courses for adults as well as schoolchildren and have a competition every two years for the youngsters of the principality."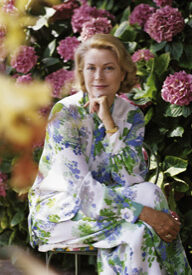 A major activity of this Club is to organize the International Flower Show which takes place annually in May. Following a visit to Amsterdam's International Flower Show in the 1970s, the renowned Dutch lily breeder, Klaas de Jong, named a lily Lys Princess Grace (now called simply Monaco). With fragrant pale yellow blooms, this sturdy plant thrives in the warm Côte d'Azur climate. Princess Grace was said to be deeply honored. At the time of Her marriage to Prince Rainier in 1956, Antoine Meilland, a celebrated rose breeder named a highly scented, bright pink rose the Grace de Monaco. "It is a lovely experience for a woman to have a rose named after her, and I am especially delighted since mine is grown by a special nursery that was created by a very special man." Princess Grace's love of botany in all its forms led Her to become an acknowledged expert on flowers and accomplished judge of floral arrangements.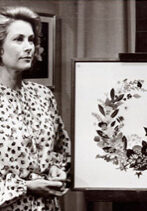 Her knowledge and skill soon evolved into an interest in pressed flower arrangements which She modestly signed "GPK" (Grace Patricia Kelly). Some of Her collages were exhibited at the renowned Galerie Drouant in Paris in 1977 and 1980 and others were displayed on Monaco's postage stamps in the 1970s. She shared Her deep love of flowers and Her secrets of flower pressing in My Book of Flowers which She co-wrote in 1980 with Gwen Robyns.
In the summer of 1984, Her family dedicated a special parkland in the Principality to Her memory. The Princess Grace Rose Garden features some 4,000 rose bushes representing more than 180 varieties, the creations of leading European and American rose specialists. It is a serene, beautiful garden for strolling or meditation, and is open daily from sunrise to sunset.
In 1966, Princess Grace was instrumental in the creation of the Monte-Carlo International Ballets Festival, which became the Monte-Carlo International Arts Festival in 1970 (now known as the Spring Arts Festival) which welcomes the world's premier musicians, artists and ballet and theater troups to Monaco to perform every year.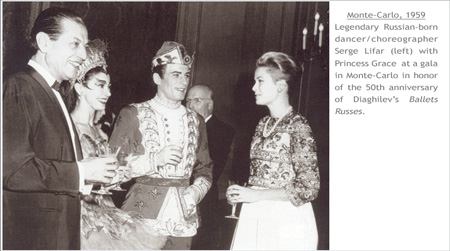 In Her lifetime, Princess Grace's dream of a permanent ballet company in Monaco as in the days of Diaghilev and the Ballets Russes was not realized. Then in 1985, Princess Caroline fulfilled Her mother's wish with the creation of Les Ballets de Monte-Carlo. The company has since attained international acclaim under the direction of choreographer, Jean-Christophe Maillot.
After becoming Princess of Monaco, She never returned to acting in films, yet Her love for the performings arts remained. In 1981, She oversaw the renovation of the Salle des Beaux Arts, paying particular attention to ensuring the artists' dressing rooms provided performers with all the comfort they need before facing the audience! After renovations were completed, the beautiful venue re-opened with a new name: the Princess Grace Theater.
To fulfill a personal wish to pay homage to Her Irish ancestry, Princess Grace started a compilation of Irish literature and music. Her collection became the foundation of the Princess Grace Irish Library, created in 1984 by Prince Rainier in loving memory of Her. Today the library boasts more than 8,000 books and 2,000 sheets of Irish music, and is one of the finest collections in the world of its type.
In the late 1970s, Her dramatic streak evolved to encompass a deep love of poetry and She attended readings and recitals as far afield as the United Kingdom. She accepted an invitation to attend the International Poetry Forum (IPF) in Pittsburgh and the following year gave Her patronage to a special program presented by the IPF in the Monte-Carlo Opera House and agreed to be named as the Forum's first honorary board member.