A selection of events presented by the Embassy of Monaco in Washington, D.C.,
& the Consulate General of Monaco in New York
Enjoy some memories from past events

here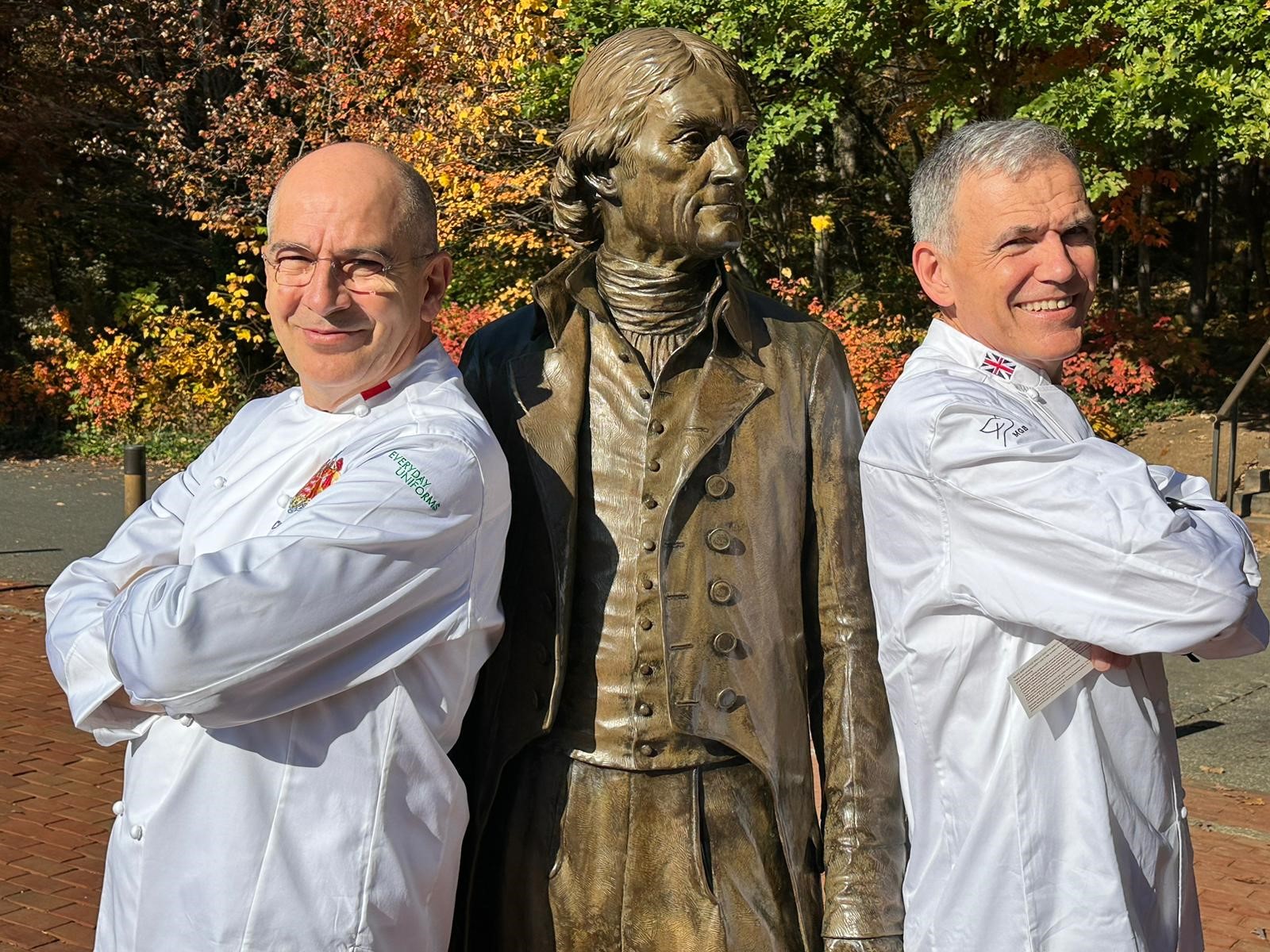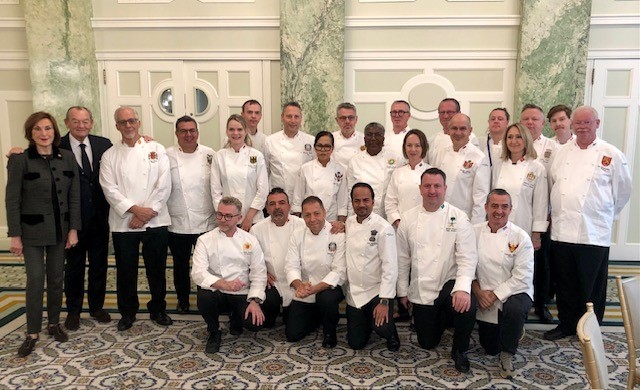 USA Visit by the World's Most Exclusive Gastronomy Club!
The "G20" of gastronomy, under the presidency of Monaco Chef Christian Garcia, Le Club des Chefs des Chefs (CCC) held their annual summit in Washington, D.C. in early November… it's the world's most exclusive club: All members must be Chef to their nation's head of state or government.
On Day One in D.C., they volunteered at DC Central Kitchen, prepping meals for local charities. They were invited to the White House for a tour and lunch, followed by an evening reception hosted by the French Ambassador Laurent Bili and Mrs. Sabine Bili-Raczy at the Ambassador's Residence.
The event attracted more than 300 guests and honored US representatives of the French gourmet food industry and included many local chefs and food industry leaders. The beverages, products and dishes offered for tasting were provided and/or prepared by these professionals. Also on offer was a selection of cocktails supplied by La Distillerie de Monaco.
The CCC also visited many local DC-area sites (Monticello, the Pentagon), were hosted for an Ambassador's lunch (with representatives from the Embassy of their home nations), at the Willard Intercontinental Hotel, and were feted at a beautiful reception hosted by the Italian Ambassador Mariangela Zappia. They were farewelled by Cuisine Solutions founder, Stanislaus Villgrain at his Georgetown residence.
The CCC, founded in 1977 by Gilles Bragard, is a gathering place where chefs can exchange ideas and showcase their culinary talents. CCC President is Chef to HSH Prince Albert II of Monaco, Christian Garcia, and Vice President is Mark Flanagan, Chef to HM King Charles III of the UK. Their motto is, "If politics divides men, a good table always reunite them…"
Follow this link for more photos.
Photos of French Embassy reception by Amélia Herault / Press and Communication Office / Embassy of France in the U.S.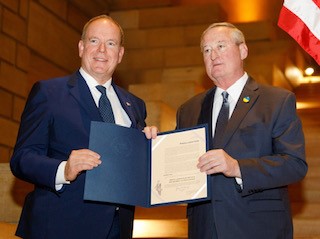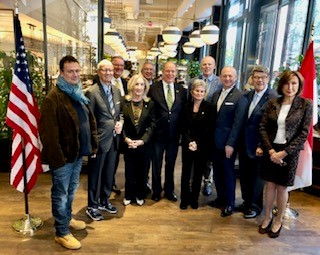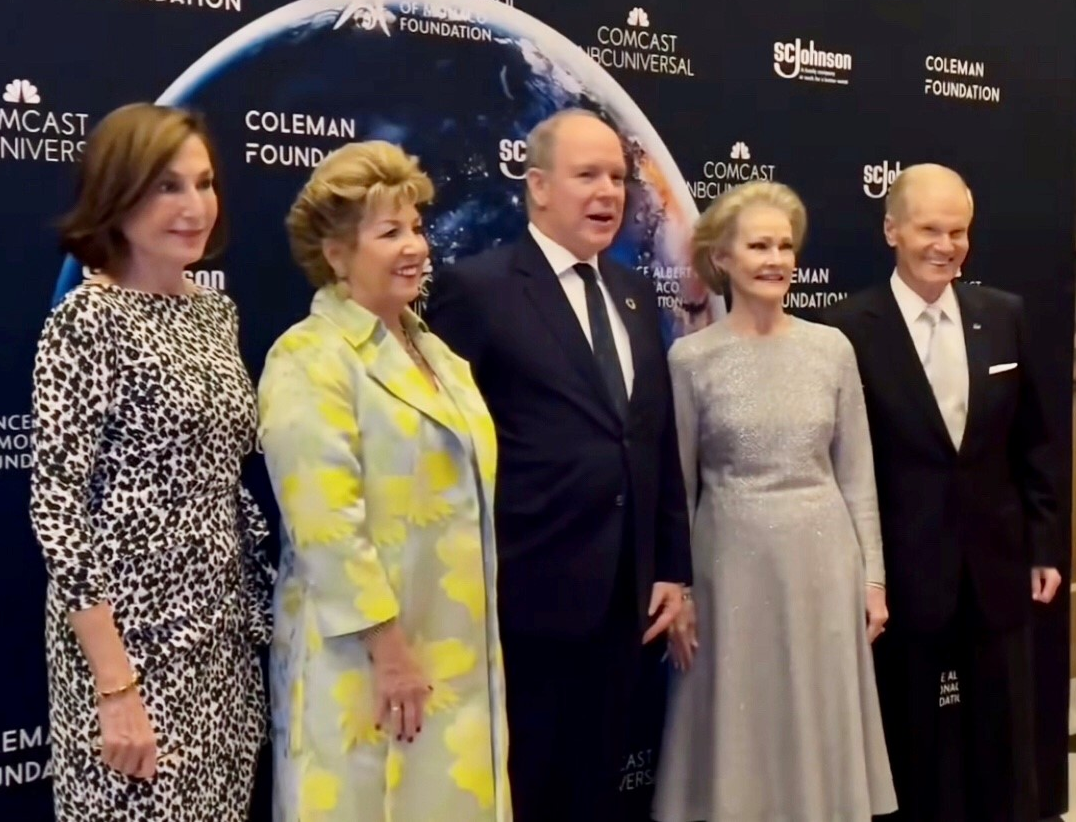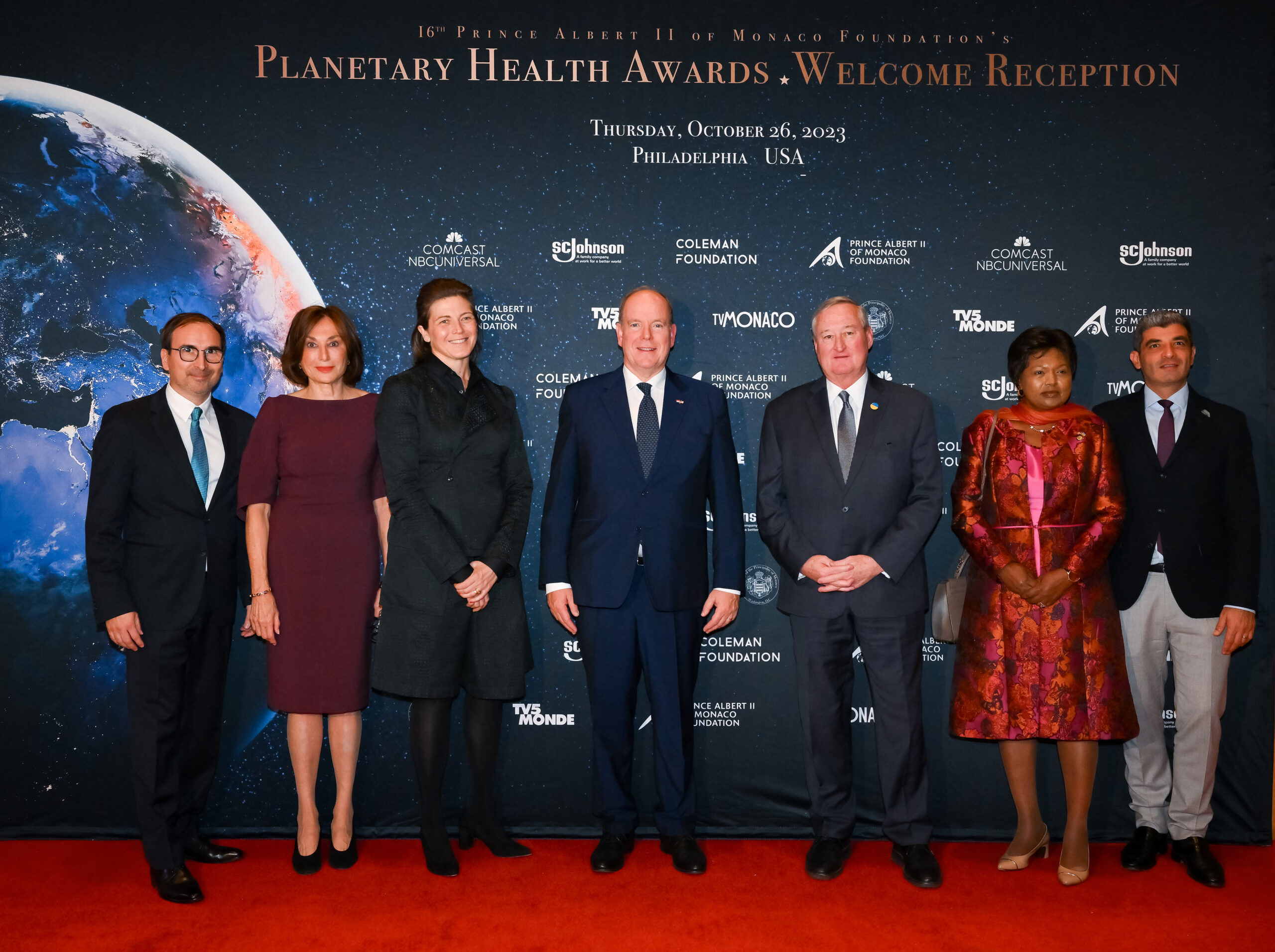 H.S.H. Prince Albert in the USA


Celebrating the Prince Albert II of Monaco Foundation & Monaco Week in Philadelphia!
In the final week of October, during the annual meeting of Monaco's North American-based consular corps, His Serene Highness Prince Albert, Ambassador Maguy Maccario Doyle and Monaco's US-based honorary consuls welcomed its newest recruit - Warren Tolman of Boston - in Philadelphia. Congratulations!
To kick-off this week of Monaco-themed festivities, the Ambassador and the Embassy of Monaco, with the Prince Albert II of Monaco Foundation, and co-sponsors SC Johnson, TV5Monde, and Comcast. hosted Prince Albert & guests at the beautiful Philadelphia Museum of Art for an elegant Welcome Reception.
The evening was also a celebration of the recent launch of TVMonaco's newscasts and programs on TVMonde USA. The Mayor of Philadelphia, Jim Kenney proclaimed October 26 "Prince Albert II of Monaco Foundation & Monaco Day" in the City of Brotherly Love!
The following day, HSH Prince Albert II announced the recipients of the Foundation's 16th annual Planetary Health Awards: Dominique Palmer, Climate Justice Activist from England, Prof. Dr. Hans-Otto Pörtner, Vice Chair, Working Group II IPCC, and @ecovative leader in the mycelium technology space. The annual board meeting for the Foundation was also held along with related Foundation events.
Afterwards, joining HSH Prince Albert on the red carpet for the Gala Dinner were Irish Ambassador Geraldine Byrne Nason, Monaco's Maguy Maccario Doyle, with Senator Bill Nelson, NASA's Administrator and his wife, Grace.
Heartfelt thanks from to the generous supporters of the 16th #FPA2 Planetary Health Awards & related Monaco events in Philadelphia: SC Johnson, TV5MONDE, TVMonaco, Comcast, the Coleman Foundation & the Kelly Family.
Follow this link for more photos. Photos: Paul Loftland & ©Michael Alesi/Palais Princier Monaco

In collaboration with Monaco's Embassy in Washington, D.C., and its Consulates in New York City, Atlanta and Miami, the Monaco Boys Choir performed free concerts, open to the public, during July in New York, Philadelphia, Washington, D.C., Savannah,

and in Florida in Orlando, Port St. Lucie,

Palm Beach, and Miami.



In 2024, the Choir is celebrating the 50th anniversary of its founding by His Serene Highness Prince Rainier III of Monaco.

..and this year, the Principality is marking the centenary of the birth of Prince Rainier with a series of special national celebrations.

More details here...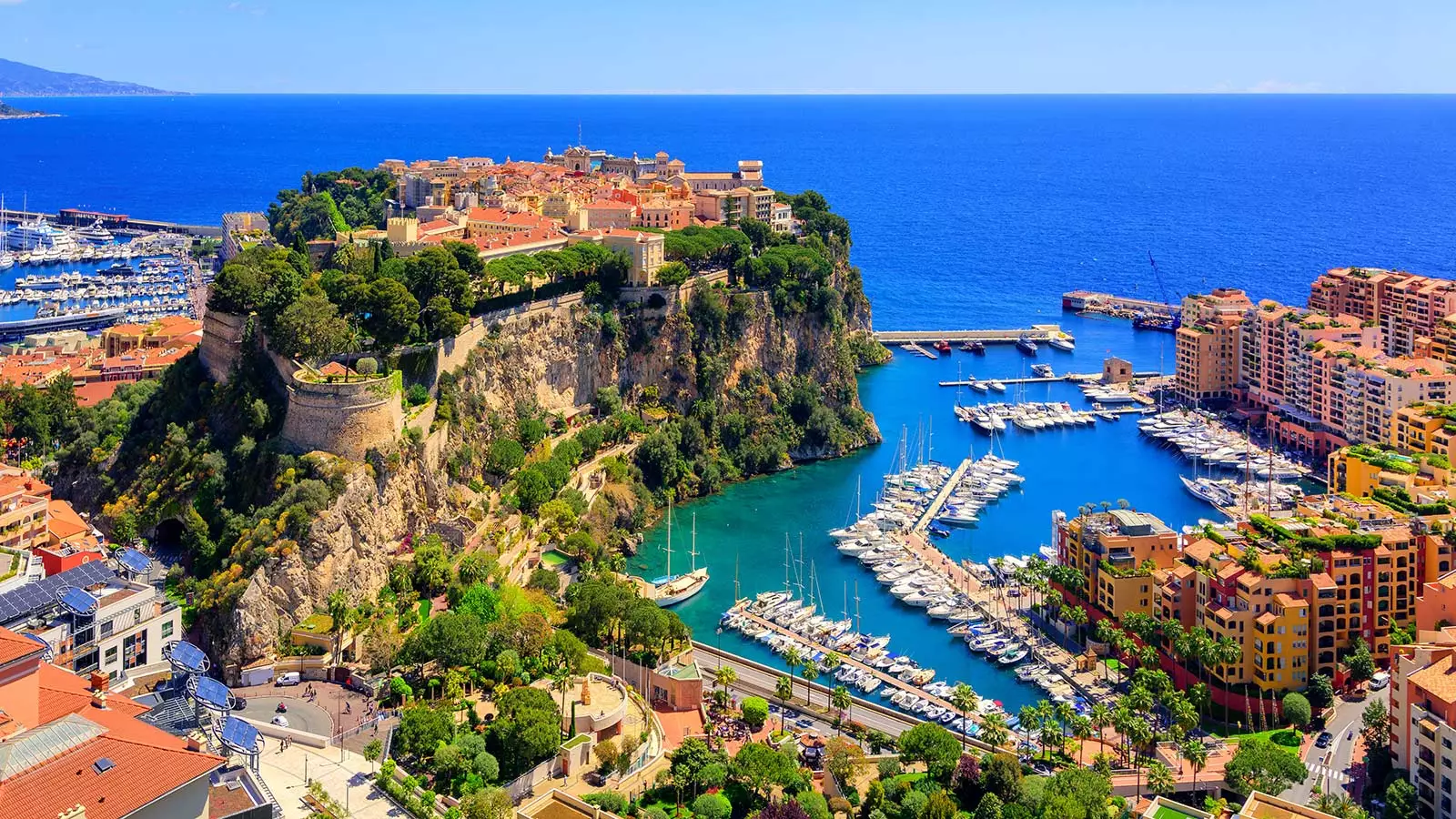 As part of the Kennedy Center's month-long RiverRun Festival
will present a fascinating talk and short film on
"The History of Water in Monaco"
followed by Q & A and book signing*
April 12, 6:00pm - 7:00pm
The Justice Forum at the Kennedy Center, Washington, D.C.
For more information and to reserve your free tickets, please click here.


*Complimentary copies of Dr. Mondielli's book "The History of Water in Monaco" will be available following the talk

____________________________________________________________________________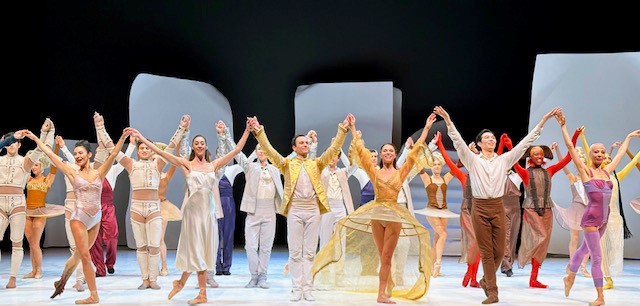 Les Ballets de Monte-Carlo's

majestic, triumphant journey to Washington, D.C. . .
For their debut at the renowned John F. Kennedy Center for the Performing Arts between November 17 - 20, Monaco's national ballet company, Les Ballets de Monte-Carlo -- under the Presidency of Her Royal Highness The Princess of Hanover (Princess Caroline of Monaco) -- enthralled audiences with their presentation of Cendrillon (Cinderella).
Her Royal Highness was the Honorary Chair of two distinguished tour committees: the Honorary Diplomatic Committee comprising more than 20 Ambassadors from many of the countries represented by dancers in the company, and the Host Committee featuring an eminent group of supporters, friends, and sponsors.
To coincide with the company's tour, and to celebrate Monaco's National Day on November 19, the Embassy of Monaco hosted a series of events over four days to welcome the Principality's North American consular corps and VIP guests to the national's capital to celebrate.
And on November 2, we welcomed a very special guest, His Serene Highness Prince Albert II of Monaco, to visit the Kennedy Center and Hillwood Museum, Estate and Gardens!
For a complete recap of photos of all the joyful events in November, please click here.
∼
A selection of press, reviews and featured listings of Cendrillon by Les Ballets de Monte-Carlo and Embassy events:
MONACO INFO TV:
TV5 MONDE:
PRINT
∼
With Thanks:     Les Ballets de Monte-Carlo     Christian Dior Couture     Consulate General of Monaco in New York     Dupont Circle Hotel,./The Doyle Collection     Embassy of France & La Maison Francaise     Hillwood Estate, Museum & Gardens     Moët Hennessy     John F. Kennedy Center for the Performing Arts
Prince Albert II of Monaco Foundation     Princess Grace Foundation-USA


∼
The Ambassador & FOX5 D.C.'s Erin Como share traditions & cocktails for "Holidays Around the World".
Recipes and more here


Film images

here

Friends and colleagues were welcomed to the Residence of Monaco to toast the holidays and celebrate friendships.
Enjoy more images from the reception here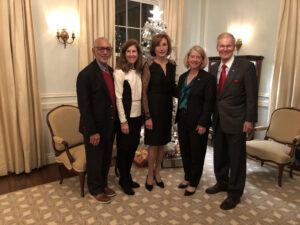 Throughout March 2021
Available Online
 The Alliance Française of Washington D.C.'s annual month-long cultural festival in March showcased three Embassy-hosted 'virtual' offerings. Learn more here.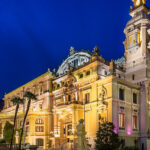 PHS Philadelphia Flower Show
"Riviera Holiday"
Philadelphia, PA -

February 29 - March 8, 2020
The Embassy of Monaco pays tribute to Her Serene Highness Princess Grace (nee Kelly), her Philadelphia roots, and her passion for flowers by presenting the Princess Grace Rose Garden, and a lecture series sponsored by the Prince Albert II of Monaco Foundation at the 2020 PHS Philadelphia Flower Show.
Under the High Patronage of H.S.H. Prince Albert II


Monaco Boys Choir - Summer Tour
New York, NY to Miami, FL -

NOW POSTPONED

In collaboration with the Embassy of Monaco in Washington D.C. and the Consulate General of Monaco in New York, and with assistance from Monaco's honorary consuls, the Choir will perform a series of free concerts, open to the public this summer. Stay tuned for details!
Under the Honorary Presidency of H.S.H. Prince Albert II of Monaco 
and to mark the 50th anniversary of the historic Apollo 11 moon landing,
the Embassy of Monaco in Washington, D.C., 
in partnership with the Monte-Carlo TV Festival,  and National Geographic,
hosts a special advanced screening of Apollo Missions to the Moon. Free and open to the public but with advanced reservations. 
Pioneers & Innovators
Celebrating 60 Years of NASA
MONACO -

November 21-23, 2018
The Embassy of Monaco hosts astronauts from the January 1986 Columbia space shuttle mission for a fascinating dialogue on the future of aerospace, "Pioneers & Innovators of Our Time", along with the Monaco premiere of "Above and Beyond: NASA's Journey to Tomorrow", a documentary by Academy-Award nominee, Rory Kennedy. Image of Monaco from space is courtesy of Scott Kelly.