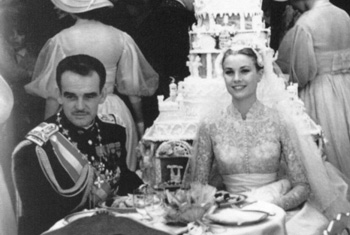 Grace Kelly met Prince Rainier in May 1955 when, attending the Cannes Film Festival, she had agreed to be photographed with the Prince for french magazine "Paris Match". After a year-long courtship, they married in a civil ceremony in the Palace throne room on April 18, 1956 in the presence of their closest family and friends. The next day, the lavish religious wedding took place at the Monaco Cathedral in Monaco in front of 600 guests, including royalty, heads of state and movie stars. All week long, Monaco was in the midst of a media frenzy. Thousands of guests and visitors jammed the streets of the Principality while Rainier and Grace were swept through garden parties, formal receptions, gala ballet performances, balls and fireworks.
Nothing was more important to Princess Grace than Her family. She brought to Her marriage a determination to be the best wife a Prince could hope for and when Her three children — Caroline (January 23, 1957), Albert (March 14, 1958) and Stephanie (February 1, 1965)— arrived, they were reared with devotion, fairness, discipline but overall, love. Trying to maintain a sense of normalcy and privacy amid a life in the public eye, She strove to balance Her traditional views on childrearing with the ever-present opinions of the interested public and the curious media.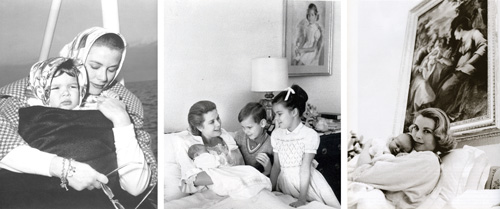 In 2002, on the 20th anniversary of Her death, Prince Rainier, while praising Her for "carrying out to perfection her role as spouse and mother", is quoted as saying, "Princess Grace is always present in our hearts and in our thoughts." Her life-long friend and favorite photographer, Howell Conant, in his book, Grace, says "Princess Grace of Monaco may well have been the most hands-on royal mother in recent history."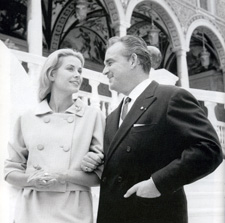 Prince Rainier passed away in 2005 at age 81. He had never remarried. Princess Grace and Prince Rainier are both buried at the Monaco Cathedral.