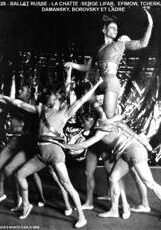 HISTORY
The Anchoring of Dance in Monaco: Ballet Russe
1909 marks the beginning of a strong presence of choreographic art in Monaco. Serge de Diaghilev presents his Ballet Russe in Paris for the first time. They set up in Monte-Carlo which becomes their creative workshop for the next two decades. Since the Principality, Diaghilev has reformed ballet in his time in all its forms. Upon his death in 1929, the company was dissolved. Several personalities and choreographers revived it under various names but it disappeared completely in 1951.  
The Birth of the Current Monte-Carlo Ballet Company
In 1985, the Monte-Carlo Ballet Company was born thanks to the wishes of H.R.H. the Princess of Hanover, who wanted to enrol in this dance tradition in Monaco. The new company was directed by Ghislaine Thesmar and Pierre Lacotte, then by Jean-Yves Esquerre.
The Rapid Expansion of the Company
In 1993, H.R.H. the Princess of Hanover nominates Jean-Christophe Maillot as the head of the Monte-Carlo Ballets. Backed by experience as a dancer from Rosella Hightower and John Neumeier, and choreographer-director of the National Choreographic Centre of Tours, Jean-Christophe Maillot takes his turn in the company. He creates more than 40 ballets for her, including several which enter the repertoire of large international companies. The Monte-Carlo Ballets are now in demand throughout the world thanks to the iconic works of Jean-Christophe Maillot such as Vers un pays sage (1995), Roméo et Juliette (1996), Cendrillon (1999) La Belle (2001), Le Songe (2005), Altro Canto (2006), Faust (2007) and LAC (2011).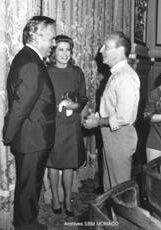 Furthermore, Jean-Christophe Maillot also enriches the company's repertoire by inviting the major choreographers of our time but also enabling emerging choreographers to work with this exceptional tool, which are the 50 dancers of the Monte-Carlo Ballets. Among these guest choreographers are Sidi Larbi Cherkaoui, Shen Wei, Alonzo King, Emio Greco, Chris Haring, Marco Goecke, Lucinda Childs, William Forsythe, Jiri Kylian, Karole Armitage, Maurice Béjart and even Marie Chouinard.
In 2000, Jean-Christophe creates, With Stephane Martin, the Monaco Dance Forum, international window to dance that presents an eclectic fusion of spectacles, exhibitions, workshops and conferences. The company regularly participates in this festival and the Académie Princesse Grace.
The Future of the Monte-Carlo Ballet
In 2011, under the chairmanship of H.R.H. The Princess of Hanover, a new structure directed by Jean-Christophe Maillot unites these three institutions: The Monte-Carlo Ballets currently concentrates on the excellence of an international company, the assets of a diverse festival and the potential for a school of a high level. Creation, training and production are currently reunited in Monaco to serve choreography in an unprecedented manner in the world of dance.
Photo Credits :
Serge Lifar in La Chatte (1928) (c)Archives Monte-Carlo SBM
TT.SS.HH. Prince Rainier and Princess Grace with George Balanchine (1969) (c)Archives Monte-Carlo SBM