In 1947, fresh out of high school, Grace Kelly was admitted into the prestigious American Academy of Dramatic Arts in New York. While working as a model to pay for her studies, her early acting pursuits led her to the Broadway stages, then to live television programs where she caught the eye of Hollywood producers.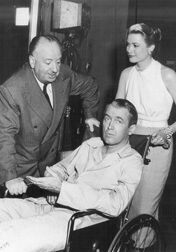 That's how in 1951, at age 22, Grace Kelly appeared in a small role in her first major motion picture, Fourteen Hours. Not willing to be tied to a studio, Grace returned to theater until she received an offer she could not refuse, the starring role opposite Hollywood tough guy Gary Cooper in the much lauded High Noon (1952). Her career continued in an upward swing with Mogambo in 1953 with co-stars Clark Gable and Ava Gardner – for which she received her first Academy Award nomination (and Golden Globe win) in the Best Supporting Actress category.
In quick succession, she made three films with legendary English director and master of suspense Alfred Hitchcock, Dial M for Murder and Rear Window opposite Jimmy Stewart in 1954 (pictured on set above), and To Catch a Thief in 1955 for which Cary Grant returned to the silver screen. The movie, a mix of comedy, suspense and romance, is set on the French Riviera, a few miles away from Grace's future home. These years also marked roles in Green Fire and The Bridges at Toko-Ri. In 1955, she won the Academy Award for Best Actress for her role in The Country Girl.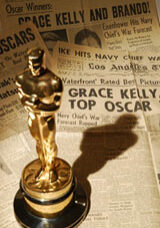 In 1956 she played a Princess in the art-imitates-life film, The Swan followed by a musical comedy, High Society, the remake of the 1940 movie The Philadelphia Story, which she interpreted on stage early in her career. Grace earned a Gold Record for "True Love", her duet with Bing Crosby from the movie. High Society would mark her retirement from the Hollywood screen. She lent her voice to a short film, The Nativity in 1982 and was also to be featured in Rearranged with Edward Meeks but passed away before the movie's completion.
As well as this remarkable roster of films, Grace Kelly had both starring and "bit" roles in numerous episodes of made-for-TV series like the Kraft Television Theatre, the Philco-Goodyear Television Playhouse, Robert Montgomery Presents, Studio One and the Lux Video Theatre between 1948-1954.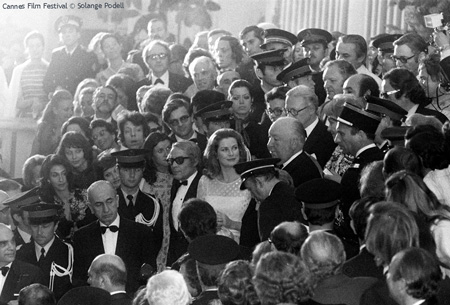 Though her film career spanned just five years and only eleven films, Grace Kelly has become one of the most famous and admired actresses of all times.